Alberto Escamilla Art Show – September 24, 2023
Alberto Escamilla Show at the Woman's Club – Sunday, September 24th, 2:00 to 5:00 PM –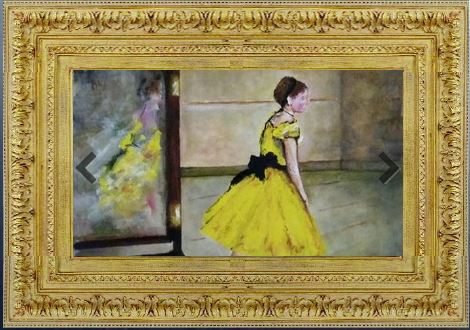 Alberto, who currently paints in oils, portraying various themes and specializing in landscape will be the guest of honor at a reception celebrating his 45 years of art.
Please join the festivities on Sunday, September 24th, from 2:00 to 5:00 pm. Music will be provided by pianist Esequiel Mesa, Jr. The event is open to the public and members of the Woman's Club will be most welcomed to help honor Alberto at this wonderful event.
Sunset Heights 19th Annual Tour – October 7, 2023
Come discover the historic beauty of the Woman's Club of El Paso. Join in the Sunset Heights 19th Annual Tour of Homes and learn more about the history and architecture that is a rich part of our El Paso history.
This event is hosted by the SunsetHeightNeighborhoodIA. The Woman's Club is proud to be part of this year's tour. For information, text or call 915-533-9090.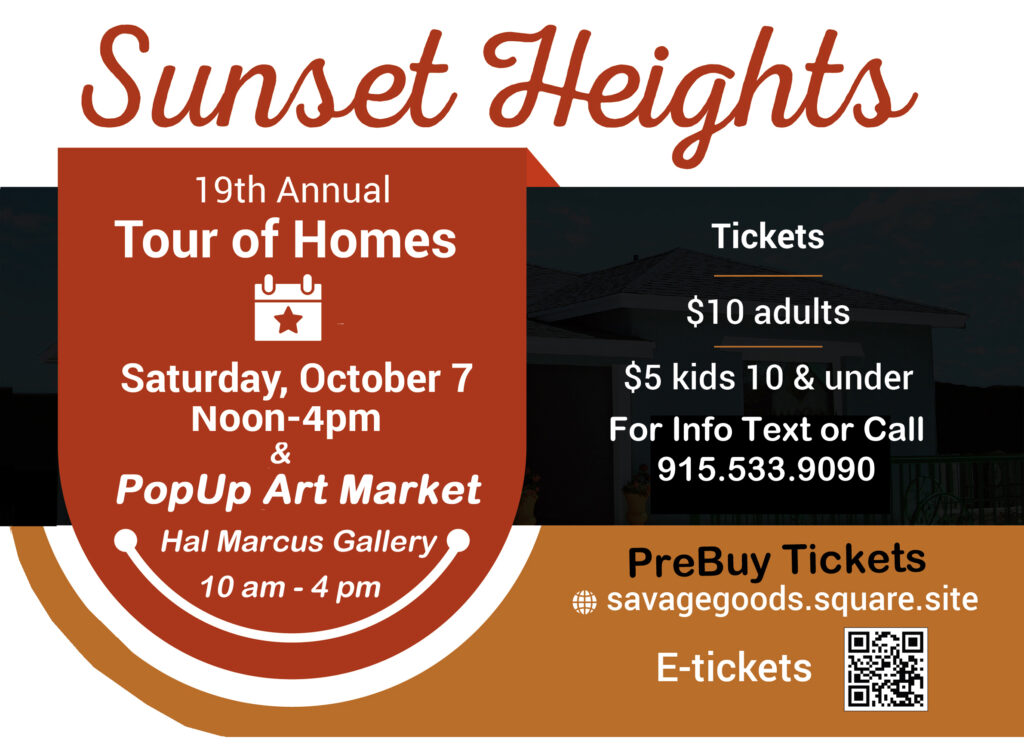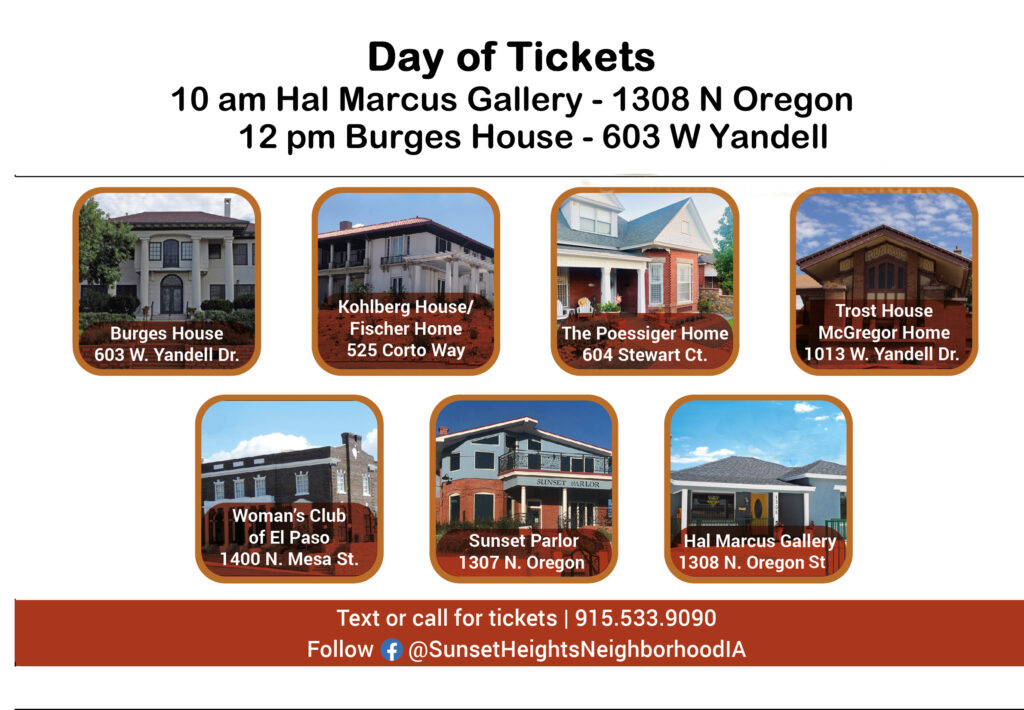 "A Fine Arts Symposium" -September 23, 2023
Lots of fun things are being added to the Woman's Club of El Paso's Fall Calendar. Kicking off the season is our collaboration with the Sun Bowl Association. Starting the day off at 10 AM, this event will help educate 8th graders from underserved school districts in our area as to the possible career opportunities in the world of arts and music.
Mentors for the event include:
A Cartoonist
An Environmental Artist
Graphic and Digital Art Professionals
Theater Arts Professionals
Culinary Artists
Theater Arts Professionals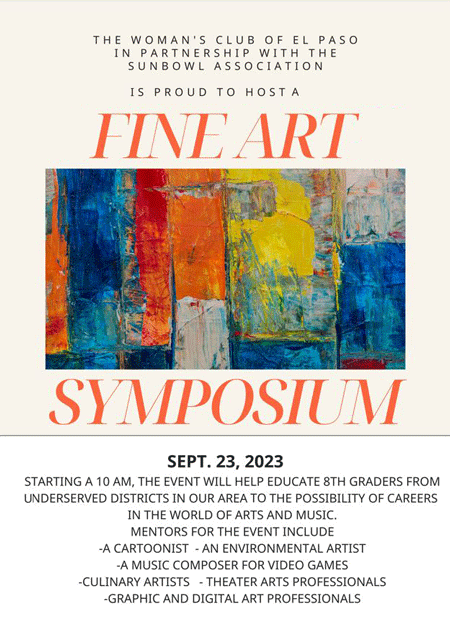 It is an exciting part of our mission statement and history to help educate and enhance art opportunities for our community. Our members are delighted to be joining with the Sun Bowl Association to bring this fun event to these students. More information will be shared soon.
Fall Festival 2023 – October 21 & 22
Back by popular demand – the Woman's Club of El Paso cordially invites you to join in the fun of our Fall Festival. Held at the Clubhouse, 1400 N. Mesa, El Paso, TX 79902.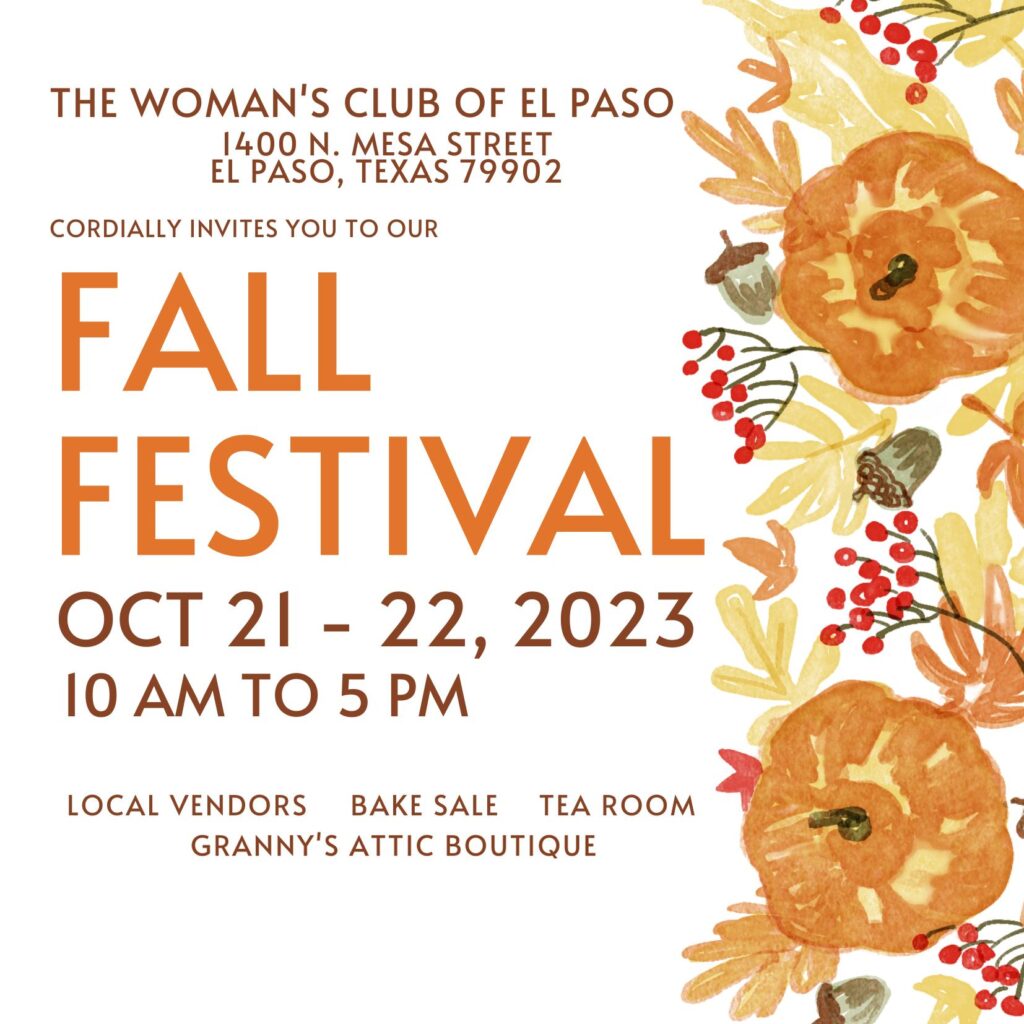 Come shop with local vendors, enjoy lunch or snacks in our Tea Room, treat yourself to delicious goodies at our Bake Sale and don't miss finding treasures in our overflowing "Granny's Attic".
You are sure to have a wonderful day to share with family and friends at our Annual Fall Festival!
Members Only Luncheon June 7, 2023
Our June 2023 Members Only meeting and luncheon recognizing all of our new members is Wednesday, June 7th at noon. It is requested that all of our WCOEP officers, board members and current members please come to greet them.

Fall Festival 2022 Returns!
September 10th and 11th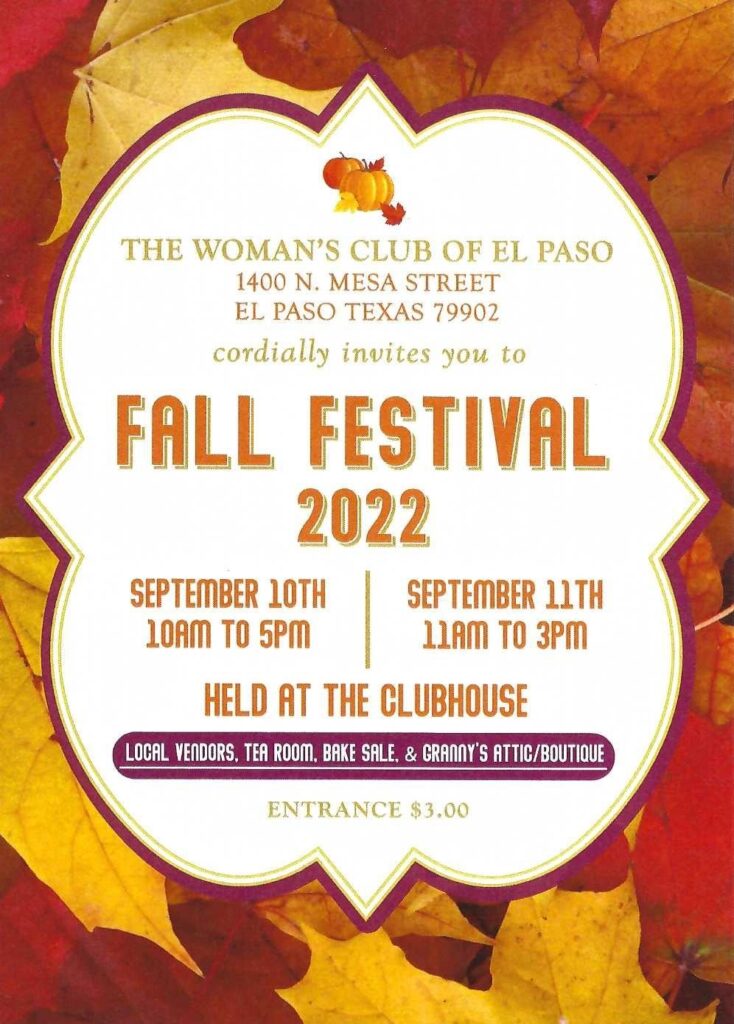 **********************************
October 22 Casino Night
Mark your calendars for a fun filled evening!
*************************************
November Book Fair

The Woman's Club of El Paso is having a Book Fair

to benefit their Book Club—details to follow.